Marvin and Herbert from Dungeon (circa vol. 1)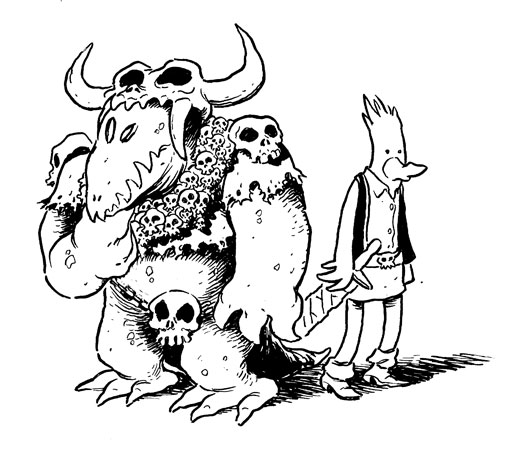 Here's a sketch I did last night trying to get myself warmed up for inking. I sometimes have fantasies of being tapped to do a Dungeon book. Luckily, fantasies don't have deadlines.
A couple more reviews for the Set to Sea book: Some really kind words from the comic shop Heroes Aren't Hard to Find's blog, and a straight up gushy one from the newspaper, The Oregonian!
A couple notes about the Little House shop: Somebody pointed out to me the other day that if you clicked to order Eleanor's mini, "The Beast Mother," Paypal was mistakenly listing it as being sold out. I fixed the problem, so order with confidence!
But speaking of sold out: We're down to our last copy of Eleanor's "Ox" print, so if you're interested in that, don't wait! It was an edition of 35, so that's it. Elo's got some new prints that will be going up as soon as I get the chance to make the entry. We are also getting somewhat low on our Bugbear mini, and aren't going to be reprinting. So, fair warning!