Remember that painting I made a while back, for Papercutter? The painting with hundreds of reader-submitted cat portraits, swirling in a feline vortex? Staring back at you, into your very soul?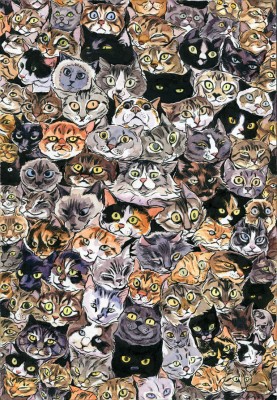 Yeah, well, enough people requested a print of that image, that I've gone and added it to our Little House shop site. And it is HUGE. An almost poster-sized 13″ by 19." So click over and order away – just don't hold me responsible for any side effects. Eleanor's got a nice new print as well, for the book store lady (or fella) in your life:
There's some other original artwork by both her and me, including this vintage Blar pin-up.