Back in the cold winter months, shortly after I finished chapter 2 of Margo, Eleanor and I were sitting at our local donut shop. I'd drunk a lot of coffee, and somehow we came up with this really silly idea for a story about a dog that got famous on the internet, and his less-than-pleased owner. What the heck, let's pitch this to Toon Books, we thought. They're never going to go for it.
Well, this September, it's actually coming out! I'm super-proud to announce our book Flop to the Top!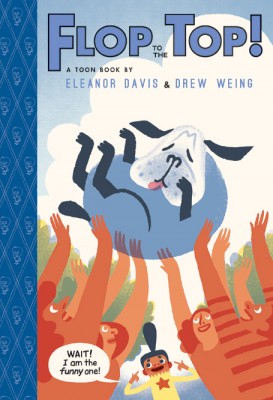 We wrote the story together, designed the characters together, and drew it together – half of the pages were drawn by me, and half are by Eleanor. Hopefully, you won't even be able to tell which. I don't know, maybe you can? Here's a couple of sample pages:
And there's more preview art and info at the Toon Books site. It's gotten some good reviews, if you trust the New York Times or Booklists' opinions on such things:
"The book is so much fun that both lessons—in reading and in life—go down easy."
     –Kirkus Reviews STARRED REVIEW

"There is a lot going on here, including an underlying commentary about social media use, celebrity obsession and struggles with emotional expression."
     –The New York Times

"A chuckle-worthy tale for young comics fans."
     –School Library Journal

"Davis and husband Weing have likely set a record for the number of selfies taken in a children's book…Chunky digital illustrations playfully spoof the lifestyles of the rich and famous…but Davis and Weing never lose sight of the story's emotional underpinnings."
     –Publishers Weekly

"Though centered on difficult emotions that will feel familiar to kids, the story is leavened with comedy, allowing readers to navigate comfortably even as the robust sentences and repetition massage new reading skills."
     –Booklist
I really recommend you decide for yourself, though. And maybe buy copies for ALL the kids you know, and ask them what they think! Maybe for all the fun-loving adults in your life, as well, what could it hurt?