The kids of Echo City know one thing the grown ups don't – there's a monster lurking in every dark alley and abandoned building! When Charles Thompson moves to town, he finds there's only one girl in town who knows what to do – the mysterious Margo Maloo, monster mediator. But is this city big enough for humans and monsters too?
The Creepy Case Files of Margo Maloo is a webcomic by Drew Weing, about kids exploring the big city and the things they find. It's also being collected into a graphic novel series by First Second Books. The first two are out already and you can buy them now!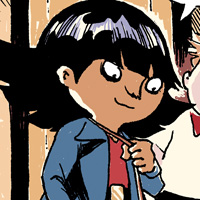 Margo Maloo
Mysterious monster mediator. Most kids in Echo City know to call her when they have a monster problem. And apparently monsters call her when they have a kid problem? Though Margo is a bottomless font of knowledge about the monster world, she has some distinct gaps in her knowledge of regular humans. She lives with her elderly Uncle Vikram in an imposing dark townhouse – the Blackstone – on the northeast side of Echo City, with her office up in the attic. Margo's parents and past are a mystery.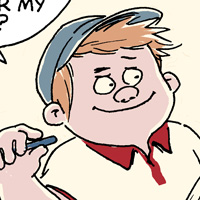 Charles Thompson
Journalist, kids rights activist. Echo City – and monsters – are new to Charles, but he quickly realized this might be the story of the century. Margo wasn't thrilled with Charles' meddling, but he made himself useful, and she took him on as her assistant. Charles lives with his parents on the top floor of the Bellwether, a big apartment building under renovation in midtown Echo City. Now he and his new friend Kevin are embarked on a project to help kids and monsters understand each other better: the Secret Monster Organization for Kids Everywhere, or SMOKE.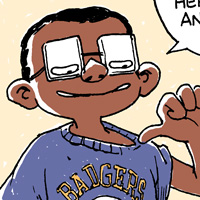 Kevin Robinson
Urban expert, aspiring record breaker. Kevin has lived in Echo City his whole life, and takes pride in the strength of his street knowledge. He was the one who told Charles about Margo, although he's almost as intimidated by her as he is by the monsters. He lives with his grandmother on the fifth floor of the Bellwether. Kevin has spent his whole summer trying to find a world record to break so someone will finally appreciate him instead of his basketball star older brother. But now he's all wrapped up in monster business with SMOKE.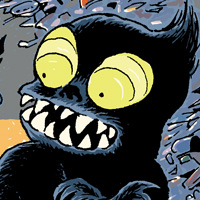 Marcus Trovestow
Big hairy troll, Battlebean buff. Even though he's young, for some reason Marcus's clan kicked him out, and now he lives in the forgotten sub-basements of the Bellwether. He tried to scare Charles out of the building, but ended up making friends with Charles and Kevin instead. But Marcus still worries that all the recent changes in the Bellwether mean that he's going to lose his home and hoard.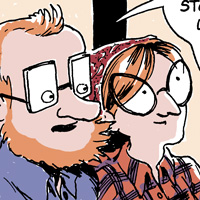 Rich and Jillian Thompson
Chill parents, architecture afficianados. Charles's parents, who moved the family to Echo City over his objections. Rich is a builder who was hired to renovate the Bellwether, and his mom just got a job at the Echo City Historic Preservation Foundation, so pretty much all they talk about is architecture. They believe in free range parenting, so Charles gets a lot of independence – which might change if they knew the kinds of dark corners their son was exploring!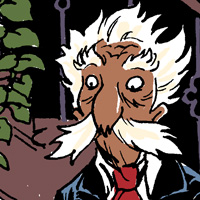 Vikram Maloo
Botanist, bemused caregiver. Margo's beloved, slightly dotty uncle. He dotes on Margo, though he sometimes confuses her with his long-lost sister Shivani. He lives in the Blackstone with Margo, although his bad knees mostly confine him to the first floor. As he's gotten older, Margo has found herself taking care of him more than the other way around.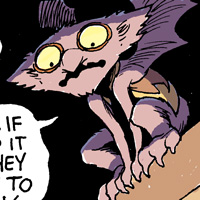 Fyo
Insufferable imp. This little purple guy got accidentally separated from his family. Like all imps, he's an inveterate prankster and sugar addict. Margo's been searching for his family ever since, with few leads. Meanwhile, since Fyo's too young to take care of himself, he's been living with Margo up in her attic.